Appointed beginning of 2018, Construction & HSE Coordinator we are happy to announce that Scaldia, the largest solar plant of the Netherlands, has been successfully commissioned beginning of November.
"Scaldia has been a challenging project not only because of the field specifies but also because it is the largest solar asset of the Netherlands. Its construction was therefore really exciting for our team has they had to deal with a project located underneath high voltage cables, behind a dike and a project surrounded by heavy construction and chemical facilities. Moreover, the research showed that ammunition from WWII could have been still covered in the soil. We had to be really precautious with all the construction work, and HSE topics were of utmost importance for this project. We are really happy of the commissioning and proud to have been involved in this project!" comments Alexander Harssema, General Director of Greensolver.
Greensolver will continue to be involved in the project as the Dutch Greensolver team will perform the Technical Asset Management and Health and Safety control of the site.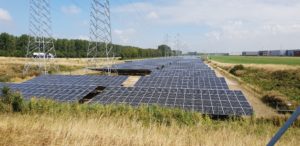 Made of 140,000 solar panels spread on 38 hectares, Scaldia has a total capacity of 54.5 MWp and is to supply 51,000 MWh of clean energy over a period of 30 years.