Co-authors : Ypatios Moysiadis & David Roissé
Date : 14/01/2019
Will Backsheet of your solar panels ruin your solar asset?
Will the backsheet of your solar panels ruin your solar asset? A less known defect could occur on your solar panels: the backsheet degradation. Less visible than other well-known defects as hot spots, PIID, diodes failure, corrosion, delamination or cell cracks, but with similar consequences: accelerated performance degradation and ultimately failure of solar panels, thus affecting the LCOE.
Before we dive deeper into the issue, we should briefly describe what the backsheet is and what is its functionality on solar panels.
Where is this material located on your panel and why is it so important to inspect it?

Backsheet is the last layer at the back of the PV module and is made from a combination of polymers. The Backsheet protects solar panels against environmental damage (ultra-violet radiation, humidity and vapour penetration, dryness, wind, dust and sand) and ensure that panels remain electrically insulated (direct electrical contact with people). The backsheet must have three critical properties in order to last for 25 years: weather ability, mechanical strength and adhesion.
For a few years now, premature degradation of backsheets has been repeatedly identified across different geographies and climates and in many different module models. Two factors could partly explain this significant quality failure. Firstly the industry went through an unexpected accelerated global expansion in the past ten years. Mainly driven by government-backed incentives, this rapid growth led to considerable peaks in demand of solar panels (Global investment rise from approximately $12Bn in 2005 to a maximum of $175Bn in 2015 and still retaining the same high level on 2016 and 2017 – BNEF Figures). Secondly with the slow down of subsidies and incentives combined with the increased demand for global capital investments led to a steep decrease of the solar panels prices which also resulted on lower quality standards and the use of cheaper materials on the production line.
How to Spot it?
Backsheet delamination and cracking can be visible visual inspection as shown in pictures below and can take different forms. For instance, little cracks inside the sheets and white powder on the outer can be easily observed.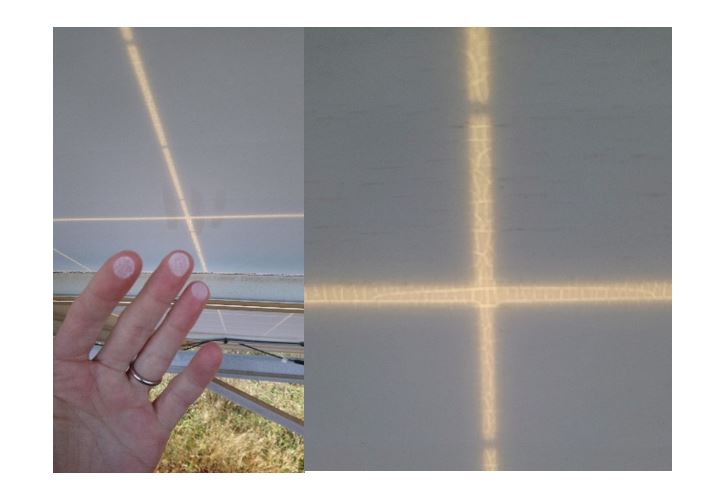 Also, delamination of the coating can be observed inducing hot spots.

The use of poor quality material mainly explains this premature degradation.
The PV industry was historically using backsheets based on double fluoropolymer (2 PVF/PVDF layers + PET) which are the most expensive, but the most resistant (typically Tedlar from DuPont or Kynar from ARKEMA). As previously mentioned, to reduce the costs, the PV industry has used other kinds of backsheets. For example:
single fluoropolymers (1 PVF/PVDF layer + PET/EVA): less expensive but less resistant because of the reduction of layers to one;
non-fluoropolymer (2 PET/EVA layers): the cheapest but clearly less resistant under UV exposure by a sample.
A poor quality solar backsheet can thus cause:
performance degradation,
extra maintenance costs,
additional costs related to inspection and replacement (claims, laboratory tests, etc.).
If your plant is affected, the best practice recommended by the industry is to replace the modules under warranty. Greensolver can support you to assess the degradation and the losses incurred, by utilising IV curve tests, IR thermal inspection. We can even perform ageing tests on specialised laboratories. The inspections will determine whether the affected panels are isolated incidences on small problematic batches or systematic failure across whole sites and portfolios. Based on the findings Greensolver can recommend the best course of action to limit the performance degradation and improve your LCOE.
In addition, Greensolver can also support and manage the claims process and the negotiations with the solar panel manufacturers. To minimise the chances of such quality issues with your panels, we would recommend that:
You always choose a Tier 1 panel manufacturer; they are the leaders in the solar panel industry, and they tend to use premium materials in their solar PV panels.
Avoid solar PV panels that use non-UV resistant solar backsheets to minimise risk.
Ask for the solar panel certifications, typically UL (UL1703) or IEC (IEC61215 and IEC61730).
Make sure you obtain critical information like batch numbers, manufacturing and assembly dates and storage conditions.
Make sure that the solar PV panels have serial numbers;
Check the bankability and the track record of the panel manufacturer. Take advise on the insurances and warranties provided for the solar PV panels and understand precisely what is and what is NOT covered.
We are always here to support and help you with any pre-construction procurement advise that you may need. Don't hesitate to contact us.